OPEN REGISTRATIONS
Enrollment seminars only admitted in pairs, max 20. Milongas open to all, but with a limited number of 110 places, the enrollment in pairs will be facilitated to improve the man / woman equalit
SOLD OUT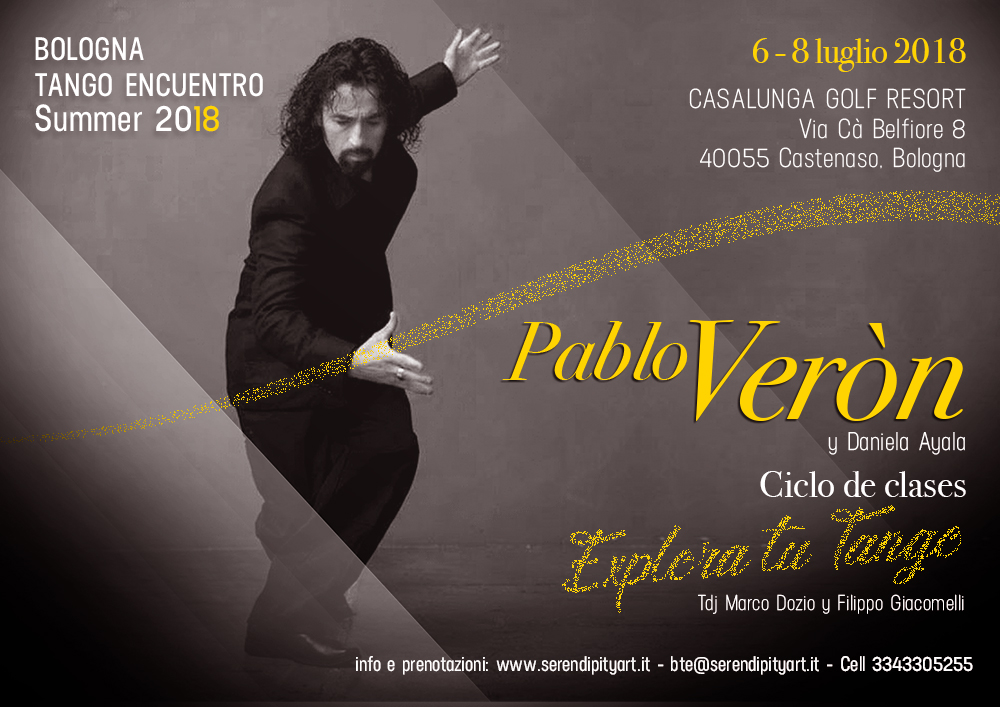 Pablo Veròn will be with us and for you at the BTE 2018 Summer, engaged in a special "didactic" path. We will be involved in 5 seminars that will aim to "explore" a wonderful connection between Tango, between man and woman. When we asked Pablo to be the protagonist of the BTE Summer 2018 with a theme of growth in the dance, he replied: No, it is you who must tell me what you want for your tango friends. After having talked about it, Pablo has dedicated a course of study to the BTE Summer 2018 of which we are honored to receive the contents:
"The correct language of tango is the embrace, it is the couple. To deal with it, you must first learn how the movement within your body circulates and the different levels of connection with each other, which in itself is an infinite world to explore. It is essential to understand the choreographic structures that the tango offers us, inexhaustible and limited only by the imagination itself. You must also develop the perception of the space in which you move. The study of music and the application of all that is learned in improvisation is the only way to harmoniously integrate the different aspects, acquiring naturalness, dynamics, fluency and freedom "Pablo Veròn for BTE Summer 2018
So we have chosen so carefully, a place to play this particular weekend of Tango. We will be immersed in a pristine green space developed in hundreds of acres of lawn, within a comfortable resort and hosted in the central villa of the structure where we will dance on a floor of fine wood. The silence of this place will allow us to study with a special energy that will come from nature and teachers: Pablo Veròn, assisted by a great dancer, Daniela Ayala
Bologna Tango Encuentro Summer 2018
"EXPLORA TU TANGO"
"In this place the cool evening air will fall asleep in the" embraces "in the night and the only noise you will hear will be that of your steps and the notes of tango tracks that will not allow you to interrupt" that divine balance born between the mind, heart, body and breath ".
Serendipity Art. "We Speak emotion"
All info about BTE Summer 2018:
BTE Summer 2018 will take place at Casalunga Golf Resort (Rooms, maps and activities)
Via Cà Bel Fiore, 8, 40055 Castenaso BO, Italia. The property is located a few km from Bologna and highway exit.
We'll dance on an excellent wooden floor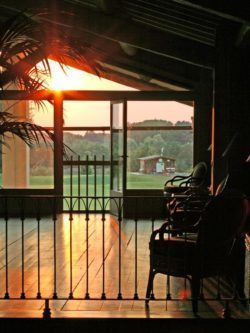 Couple registration will be required. People who register themselves will have to wait for confirmation emails. Please do not book hotels, planes or trains without having received confirmation emails. Thank you!
Choose what you prefer:
*Full BTE Summer Package € 234,00
Include 2 nights in double room and breakfast + 5 stages + 2 Milongas, swimming-pool and parking .
This special package is reserved for guests who will stay in the Resort until rooms are exhausted.
No single rooms are available within the structure that houses us. Company membership fee.
IMPORTANT: The booking of the room within the structure and related to this package, is reserved for those who have already composed the couple man woman.
Dancers who will spend the night in external structures, it will be possible to choose what they are interested in with the options below, combining them at will.
1 stage € 30,00
3 stages € 80,00
5 stages € 120,00 (raccomended)
Stages:
1) Saturday starts at 15.00 to 16.30
2) Saturday starts at 16.45 to 18.15
3) Saturday starts at 18.30 to 20.00
4) Sunday starts at 11.30 to 13.00
5) Sunday starts at 15.00 a 16.30. Delivery of participation certificates
In case of partial selection of the seminars indicate the number shown next to the seminar.
All stages will last for 1h and 30 min.
Only intermediate / advanced level and Master. Max 20 pairs.
Milongas entrance with free water service and midnight snack:
Friday July 6th starts 22,00 to 03,00 – € 15,00  with Tdj Filippo Giacomelli
Saturday July 7th starts 22,00 to 03,00 – € 15,00 with Tdj Marco Dozio
2 Milongas Package € 25,00 .
Payment: after receiving confirmation, payment must be made by June 18, 2018, by credit card or bank transfer. Cancellations possible with deduction of only the administrative cost of € 10.00 by 30 June 2018 by writing to bte@serendipityart.it. Thank you.
The FaiTango members who will book only the Milongas will enter the pre-reservation form: Name Surname, email telephone and names of the couple formed, omitting the other fields.
*Reserved entrance for members of Fai Tango and Soci Serendipity Art
Help Desk : bte@serendipityart.it   Cell. +39 334 3305255
**********************************************************************************************************************
Restaurant:
Friday July 6th buffet dinner € 25,00
Saturday July 7th lunch € 23,00
Saturday July 7th dinner € 25,00
Sunday July 8th lunch € 23,00
The structure that hosts us in the evening is reserved for the BTE Summer 2018 and has ample parking.
Full BTE and seminar packages are expected to be paid by credit card, Pay Pal or bank transfer no later than June 18, 2018. Milongas, lunches and dinners can be paid on the spot with reservation.
We point out some hotels very close to the BTE Summer 2018:
NH Hotel Via Villanova 29/8 40055 Villanova di Castenaso (BO) 051 604311
Living Place Hotel Via Properzia de 'Rossi 40139 Villanova di Castenaso (BO) 051 60091
Hotel Bellaria Via Altura 11 / bis 40139 San Lazzaro di Savena (BO) 051 453103
How to reach us:
Guglielmo Marconi Airport Bologna
Train Station Bologna Centrale
By Car:
For those coming from A14 (Ancona-Rimini): exit at Bologna San Lazzaro (No. 13).
Continue on the ring road and take the first exit. At the junction turn left and at the first roundabout turn right. Follow this road for about 3km and you will find another roundabout, follow the signs to Castenaso. On the road you are now following (via montanara), you will find a church on your left, take Via Alta Fiumana (road behind the church) and continue for 100m, then turn right into Via Ca 'Belfiore. The Resort is about 500 meters on the left on this road.For those coming from A13 (Padua-Venice) and A1 (Milan-Florence-Rome):
exit at Bologna San Lazzaro (N ° 13) and continue on the coplanar south after San Lazzaro. Take the first Idice exit. At the roundabout take the 1st exit on the right; Follow this road for 500 meters and at the new roundabout take the 2nd exit. On the road you are now following (via montanara), you will find a church on your left, take Via Alta Fiumana (road behind the church) and continue for 100m, then turn right into Via Ca 'Belfiore. The resort is about 500 meters on the left on this road.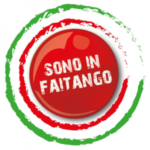 Collaborano con noi: